The Secret Book Club is run by Miss Parker for Year 6 children. It takes place on Thursdays from 3:15 – 4:00pm
Welcome to the secret book club – a place to escape and explore different worlds.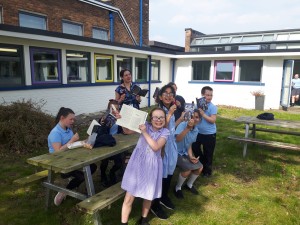 The book club is a place to feel free of work and find your imagination.
It is a place for reading and socialising…
… and a place to discover a lifelong love of reading!
Here is what some of our book club members think about book club:
"It's amazing how we can explore our feelings through each page." – Jessica, year 6
"A place to discover your imagination!" – Millie, year 6
"A place that is quiet where you can forget your worries." – Emily, year 6
"Book club is a great place to relax and enjoy your hot chocolate while reading." – Lucy and Elise, year 6