Dear Parents and Carers,
We would love to show you around our exciting school but due to current restrictions unfortunately this isn't possible.
Watch the film below to find out more about our Nursery and Reception classes and how to apply for a place for your child. We hope it gives you a taste of life in the Early Years at our school.
Click on the picture below to watch our film: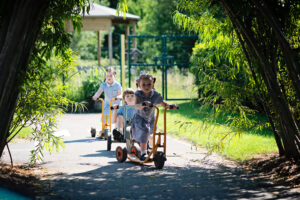 The children have settled back into school really well this term. The curriculum has a strong focus on Maths and English so that the children can quickly catch up to where they should be. More time in the school day has been spent on number work, reading and writing to really get the children off to a great start to the school year. The last hour of the day has been spent on the wider curriculum so the children will still have Science, History, Geography, Art, RE and PE lessons.
Best Wishes,
Mrs Blay
Click on this link to see how our school compares with others, nationally. We are really proud of our results!
School Performance League Table
Please read the following information carefully so that you are fully prepared for the school fully reopening.
Back to school date and times
Attendance for all year groups is compulsory.
When dropping off and picking up, to minimise the number of people around the school area, we ask that only one adult accompanies each child.
A new one way system has been introduced to ease congestion at the entrance to the KS1 playground. To enter the school site please use the gate that leads through the small staff carpark. To exit the playground please use the normal gate. The small side gate will be locked to avoid collisions on the way out of school. A member of staff will be on duty to guide you.
We have staggered the times for arrival and pick-up of the children to reduce crowds of children and parents around school. Please see the attached table below which shows when and where your children will enter and exit the school. Children must not be late for school.
| | | | |
| --- | --- | --- | --- |
| Year Group | Arrival Time | Pick up time | Door |
| Nursery | 9:00am – 9:15am | 2:55pm | Enter and exit through usual EYFS entrance. |
| Reception | 8:45am – 9:00am | 3:10pm | Enter and exit through usual EYFS entrance. |
| Year One | 8.45am – 9:00am | 3:00pm | Enter and exit through classroom doors |
| Year Two | 8:45am – 9:00am | 3:00pm | KS1 Door |
| Year Three | 8:40am – 9:00am | 3:15pm | Enter and exit through classroom doors |
| Year Four | 8.40 – 9.00am | 3.10pm | Enter and exit through classroom doors |
| Year Five | 8.40am -9.00am | 3.15pm | Enter and exit through classroom doors |
| Year Six | 8.40am -9.00am | 3.15pm | Enter and exit through the KS2 hall. |
Arriving at school
We request that all parents wear a face mask on entering the school grounds unless you are medically exempt.
Upon entering the school, all children are to sanitise their hands with antibacterial gel, which is available at the entrances and in each classroom.
The School Day
To reduce the risk of the spread of Coronavirus the children will not mix between Year groups. This will mean that they will have separate playtimes and the playgrounds will be zoned into different areas.
There will be no Tuck Shop at break times and so it is important that your children bring their own snacks in with them if they would like one.
There will be no assemblies in the school halls.
The children will be spending more time on Maths and English to help them catch up with time lost in school.
School dinners will be a sandwich or a hot option, that the children will eat in their own classrooms. These will be priced at £2.30 and can be paid for via SIMS Pay or contactless card in the School Office.
We will no longer be providing water bottles for the children and instead ask that they bring their own into school.
The end of the day
After School Club will be operating as usual to parents/carers who already have their children registered in the club.
There will be no extra curricular clubs operating for the Spring term.
Please pick up your children at the allocated time from the classroom door.
If you are late picking up your child please pick them up from their classroom.
School uniforms can be purchased from the school office and can be ordered online. The school office will not be taking payment by cash or cheque rather on-line payments or contactless card.
No child or parent should attend the school site if they have corona virus symptoms, they must book a test. They must not attend school until they receive their test results even if they are feeling better. If the test is positive the child must not attend school for 10 days.
Download our latest Ofsted report here