Welcome to Crossacres Primary Academy. Here at Crossacres, we are immensely proud to provide our children with the care, support and education that will instil within them:
– A love for learning that will last for their entire lives.
– A knowledge based on the highest level of teaching and real-world experiences that will broaden their minds and open their horizons.
– A sense of duty and pride to grow into people that show kindness, respect, tenacity and integrity; people that will enhance and care for our community and other communities beyond our own.
Our curriculum has been uniquely designed so that our pupils can:
– Challenge themselves to become the best people they can.
– Progress as quickly and effectively as they can, with long-lasting effects.
– Aspire to be whatever they want to be, with no limitations.
Our school creates an interesting, enjoyable and peaceful environment where children feel safe and confident to challenge themselves and to make the outstanding progress that we are so proud of.
The main points for your information are:
Breakfast Club will open from 7.45 am and will be held in the main school dining room. Entry is £1.50. This is open to all children and there is no need to book. The children are taken to their class by the Breakfast Club staff at the beginning of the school day.
There will be no staggered start times. The one-way system on the KS1 playground will remain. The school gates will open at 8.30 am. Classroom doors will be open between 8.40 and 8.50 am for children to arrive, please do not be late. Year 6 will access their classrooms via the door on the KS1 playground.
Nursery and Reception (EYFS) door will be open between 8.40 and 9.00 am in the morning.
Registration will start at 8.50am and will close at 9.00am. Any children arriving after 9.00am will be marked as late.
8.40am -9.00am – Reading for Pleasure for all children (Reception to Year 6)
EYFS – Doors open 8.40am until 9.00am.
Assemblies – 9.00- 9.20
Nursery and Reception will play on their own playgrounds.
Lunchtime will be from: EYFS/KS1 – 12.00- 1.00 KS2 – 12.15- 1.15
The school day will end at 3.15 am for all children (EYFS 3.10). The gates will open at 3.00 pm for parents to enter the playground, children will leave from their classroom door. Year 6 will leave school via the school hall.
After-school care club will operate as normal, if you would like a place please fill in the application form on the school website.
If you would like to purchase school uniform, the office will be open from 9-3 pm on Monday and Tuesday.
COVID-19:
If a child or parent has COVID-19 symptoms they should not attend school, they should arrange to have a test.
If a child develops COVID-19 symptoms at school, they will be sent home immediately.
Our enhanced cleaning and hand washing procedures will continue.
Mrs Blay
Watch the film below to find out more about our Nursery and Reception classes and how to apply for a place for your child. We hope it gives you a taste of life in the Early Years at our school.
Click on the picture below to watch our film: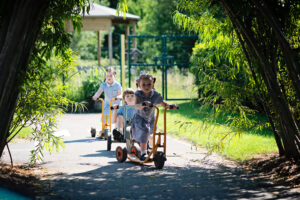 Click on this link to see how our school compares with others, nationally. We are really proud of our results!
School Performance League Table
School uniforms can be purchased from the school office and can be ordered online. The school office will not be taking payment by cash or cheque rather on-line payments or contactless card.
Download our latest Ofsted report here